Will you be in Houston for the International Quilt Festival?
Please stop by and see us on the exhibit floor. We will be in the Healing Quilts in Medicine special exhibit. Founder Vikki Pignatelli will be joining us!
The Healing Quilts exhibit features 21 quilts that are based on the pharmaceutical plants and animals used in cancer treatments. These pieces will be installed at the INOVA Fair Oaks Cancer Center in 2014.
To learn more, visit our sister website: www.healingquiltsinmedicine.org
---
Sacred Threads 2013 is featured in the Sept/Oct 2013 Machine Quilting Unlimited magazine.
Featured artists are:
Suzanne Riggio, Pierra Vernex, Virginia Greaves, Marianne Williamson, Donna Radner, Larkin Van Horn, Cyndi Souder, Linda Schmidt and Marj Luchtenburg
---
Here is a shot of our labyrinth layout - the creative work of our curator Barbara Hollinger.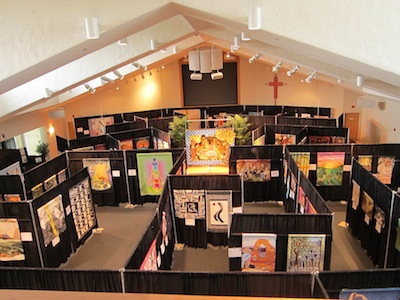 We are very proud of the 2013 exhibit and appreciate all the artists that shared their work and the viewers that came to experience it.
We are grateful to Floris United Methodist Church for their gracious hospitality and allowing us to use their glorious space.
If you would like to be added to our distribution list to be notified of the next call for entries or events,please signup here:
---
Experience the 2013 exhibit with these Treasures

Computer CD which includes photos of the artwork, artist statements and audio recordings from the artist. Compatible with Mac and PC.

$10.00 (plus $2.95 S&H)

---

Sacred Threads Enamel Pin

$5.00 (plus $1.00 S&H)

The Sacred Threads 2013 Exhibition Book (Softcover - 252 pages)

$29.99 (plus $5.00 S&H, $2.00/ea. for additional books)

NOTE: This is the special show price available through the end of August or until supplies last. Retail is $34.99.