The Lord's Eyes Are Watching Over Us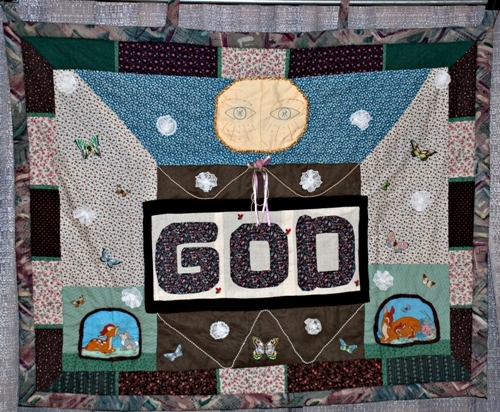 Teresa Romano
Marysville, OH

45"x 43"

It was August 13th, 1988 when I was hit head on. I went through the windshield and crushed the steering wheel. My four year old daughter had undone her seat belt and ended up on the floor under the dash board. All I could remember was hearing her crying which brought me to. I couldn't move, see, or breathe. All I could do was beg God to not let us die. I was in so much pain and so scared and so alone, but as God breathed air back into my lungs, I realized he was there for us.

Later after being life-flighted to the hospital, I was going into surgery and I looked up into the doctor's eyes. They were so crystal blue, and they told me I wasn't going to die. A few weeks after my surgery I asked everyone who the doctor was who had the blue eyes. But there was no doctor with those eyes.

As I sit here today I know those were the Lord's eyes, letting me know that he was with me then and he is still with me now watching over me. My daughter came through all of this with only a few bruises and a lost tooth. I feel in my heart that God took his hand and held us that day. This is the story that inspired me to do my quilt. God reunited a mother and daughter to live in his beautiful world.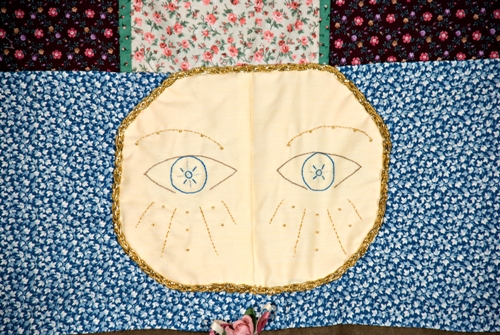 A personal note from the quilter:

I am 49 yrs old and am a mother of two, a girl and a boy. I'm not a grandma yet, but hopefully soon. I work in the big laundry as a as a seamstress. I love coming to church, and love doing cross stitch projects. I've enjoyed doing this quilt, and yes this is my very first quilt.