As a part of our healing mission, we are passionate about art in hospitals.
Thank you to all the artists that entered Backyard Escape.
The plan is to have multiple trunks going to different locations and then come together for our main exhibit at Sacred Threads 2021.
May 2020: The NIH and UChicago exhibits are looking possible for June 2020. The Long Beach show has been postponed until summer of 2021.
If you are an artist with a Backyard Escape piece and have not yet shipped your quilt, please go ahead and do so, as soon as it is safe. Read this newsletter for shipping information. Read This Recent Newsletter
If you have any questions, please email Lisa Ellis at lisa@ellisquilts.com.
Hospital Tours and Sacred Threads 2021: View Gallery
Backyard Escape is confirmed for (these dates will continue to be adjusted as needed).

National Institutes of Health Clinical Center
June 2020 - July 2020
UChicago Medicine in Chicago, Illinois
June - August 2020
International Quilt Festival Long Beach, CA
Funds from the sales will support the Shriners Hospitals for Children
https://www.shrinershospitalsforchildren.org/galveston
July 9-11, 2020 (Now postponed to 2021)

Jacksonville Quilt Show
September 2020

Virginia Quilt Museum, Harrisonburg, VA
Fall 2020
University of Michigan Hospital - Taubman Gallery
March - June 2021

Ogallala Quilters' Society, Midland, TX
April 2021

AQS Paducah, KY
April 2021

Sacred Threads, Herndon, VA
July 2021

AQS (locations TBD)
August 2021 and September 2021 shows
ArtistS:
If you still have to submit your piece and were given an extension, please enter it here:
We may do a second round of entries depending on how many sell. So if you would like to be on our Interest List, please fill out this form:
Hospitals, Museums and other exhibitors:
If you are a potential venue for Backyard Escape and would like to have this exhibit, please fill out our
---
Here is the original message if you are visiting this webpage for the first time or checking out the details.
This exhibit will debut in 2020 at the National Institutes of Heath Clinical Center in Bethesda, MD (outside Washington, D.C.) and then travel to at least two more hospitals in the US.
Curators:
Lisa Ellis (Sacred Threads Chair) and Barbara Hollinger (Sacred Threads Curator)
Seeking 18" w x 24 h" art quilts for hospital galleries.
Debuting at the National Institutes of Health (NIH) in Bethesda, MD (outside Washington, D.C.) in the summer of 2020.
Additional venues to include the University of Michigan Hospital in Ann Arbor, MI and UChicago Medicine in Chicago, Illinois.
Theme:
What brings you peace in your backyard? Either real or imaginary, urban or rural, micro (e.g., blade of grass) or macro (e.g., expansive view of a lake). What brings you tranquility? The color palette, or the light in morning or evening. Let your imagination or your photo collection inspire you to create something beautiful for the hospital setting for patients and their families.
We are looking for a variety of artwork styles that express peace and tranquility whether in the very abstract or somewhere on the spectrum of realism.
A Few Specifics: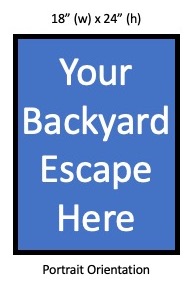 18" (w) x 24" (h) (Portrait orientation only)
An art quilt is defined by Studio Art Quilt Associates as "a creative visual work that is layered and stitched or that references this form of stitched layered structure".
A brief artist statement, and descriptions of techniques and materials will be requested, for the curators view only. The hospital wall label will only include the title, and the artist name, and location. Let your artwork's imagery stand on its own.
Artworks must be for sale. Hospital commissions support the hospital's missions. The NIH commission is a tax-deductible 20% and supports the Patient Emergency Fund which helps patients and families by providing short-term emergency funds during times of crisis or financial stress. It assists with participation in medical research by providing limited amounts of money for emergency food, clothing and shelter.
There is no made by date.
All quilts must have a 4" sleeve on the back for hanging.
Quilts must also have a label on the back with artist name and title. Location and date completed are optional.
Return shipping costs will be the responsibility of the artist unless we get sponsorship for the exhibit. This detail will be sorted out later after we know more about the travel schedule.
Only one per artist.
There is no entry fee to enter. However, if a sponsor is not found for the exhibit, selected artists will be given an opporunity to make tax-deductible donation to help cover our exhibit shipping costs.
Thank you to our sponsors: