Sacred Threads is pleased to announce an exciting outgrowth of our Backyard Escape project.
The INOVA Schar Cancer Institute - Fair Oaks (in Fairfax, VA), Radiation Oncology department, reached out to request new art quilts for permanent installation in their newly renovated space. The clinic staff choose 13 artists to create new works inspired by their Backyard Escape pieces. To view these artists and their Backyard Escape artwork, check out this gallery.
These new pieces will be framed and installed later this year. Check back for progress and images of the new artwork.
Congratulations to these 13 artists invited to participate: Kathie Briggs, Sarah Enstminger, Gina Gahagan, Nancy Hershberger, Barbara Hollinger, Olna Nebuchadnezzar, Bobbe Shipiro Nolan, Julie Rush, Elizabeth Saunders Morris, Christine Vinh, Nita Vono, Miki Willa, and Nanette Zeller.
Pictured on the right is Chair, Lisa Ellis in front of pieces created by Vivian Milholen and Carole Nicholas for the first Arts and Healing initiative made for the Inova Schar Cancer Institute - Fair Oaks in April 2014.
---
Backyard Escape is now traveling! To see where you can view pieces, please check the schedule below.
Enjoy this virtual gallery of all the quilts:
The catalog is now available for sale:
$24.99 plus $6.oo shipping and handling
Check out our Backyard Escape Virtual Catalog
Backyard Escape Sponsor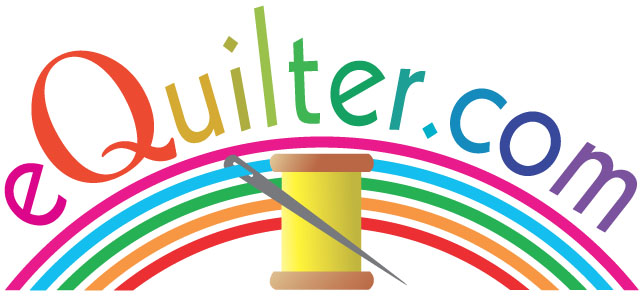 Backyard Escape is generously sponsored by eQuilter.com. Please visit the website at eQuilter.com and shop for all your fabric and notion needs. eQuilter.com donates 2% of all purchases to charity. eQuilter.com is a long time sponsor and friend to Sacred Threads.
Backyard Escape Exhibit Schedule
The plan is to have multiple trunks going to different locations and then come together for our main exhibit at Sacred Threads.

National Institutes of Health Clinical Center (34 pieces). This building is not open to the public at this time. The exhibit is for hospital staff and patients to enjoy. Only authorized personnel and patients are able to view the exhibit in person.  
August 16, 2020 - (Not sure of end-date, probably December 2020)
VIEW Gallery of NIH (28 hanging, 6 alternates to fill-in after sales)
Installation Photos from U Chicago Medicine:
UChicago Medicine in Chicago, Illinois (60 pieces)
July 2020 - December 31, 2020
VIEW Gallery of UChicago (60 pieces)
Virginia Quilt Museum, Harrisonburg, VA (50 pieces)
September 8, 2020- December 19, 2020
View Gallery of VQM (50 pieces)
Heart Gallery in Toledo, OH (30 pieces)
January - February 2021
University of Michigan Hospital - Taubman Gallery (50 pieces)
March - June 2021
AQS Paducah, KY (Now Cancelled)
April 2021
Jacksonville Quilt Show
Now postponed to May 2021
International Quilt Festival Long Beach, CA
Funds from the sales will support the Shriners Hospitals for Children
https://www.shrinershospitalsforchildren.org/galveston
Now postponed to 2021 - specific dates unknown
AQS (Now Cancelled)
August 2021 and September 2021 shows
Sacred Threads, Herndon, VA
July 2022
If you have any questions, please email Lisa Ellis at lisa@ellisquilts.com.