Mark your calendars for 2017

Exhibit: July 7 -23, 2017
Meet the Artists weekend: July 14-16, 2017
Location: Floris United Methodist Church, Herndon, VA
Our Call for Entries Is Now Open: Deadline December 31, 2016
For the holidays, our products Are ON SALE
Check out all the great deals and order while supplies last.
Sacred Threads Lotus Enamel Pin

On sale now for $3.00.

(plus $1.00 S&H)

Regularly, $5.00

---

Sacred Threads Tree of Life Enamel Pin

On sale now for $3.00.

(plus $1.00 S&H)

Regularly, $5.00

The Sacred Threads 2013 Exhibition Book (Softcover - 252 pages)

On sale now for $15.99.

(plus $6.00 S&H, $2.00/ea. for additional books.)

Regularly, $29.99. NOTE: Retail on Amazon.com is currently $46.23.

---

The Sacred Threads 2015 Exhibition Book (Softcover - 338 pages)

On sale now for $24.99.

(plus $6.00 S&H, $2.00/ea. for additional books)

Regularly, $34.99
We are excited to announce our Postcard Project - a special exhibit this summer in July 2017.
Learn More on our Postcard Page.
Sacred Threads Traveling Exhibit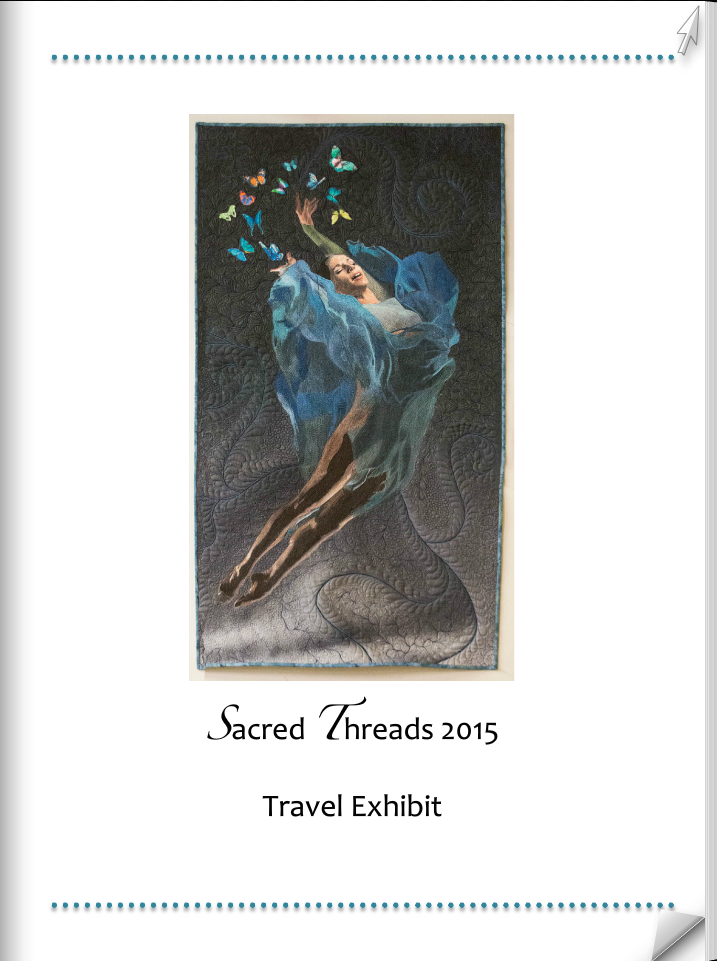 Several locations have already enthusiastically agreed to host the 40 piece travel exhibit and other venues are still in the works. The upcoming dates are:
November - December 2016
The Rectory, 17 College Street, Norcross GA 30071, Cultural Arts Center 678.421.2025, www.norcrossga.net
January-March 2017
Texas Quilt Museum, 140 W. Colorado Street, La Grange TX, 979.968.3104, www.texasquiltmuseum.org
April 2017
Best of the Valley Quilt Show, McDermont Field House, 365 N. Sweet Brier Street, Lindsay CA, , 559.625.5430, botvquilts.com
If you or your venue is interested in receiving a portion of the 2017 exhibit, please indicate your interest by filling out the Traveling Exhibit Interest form.
View the 2015 Travel Exhibit:
Flip Book Gallery (with artist statements)
Thank you to eQuilter.com for being the sponsor of our traveling exhibit!
Signup to receive our Newsletter
Do you shop at Amazon?
If so, please start your shopping at smile.amazon.com and choose Sacred Threads as your designated charity. Why not make all your purchases support a good cause!
About Us
Sacred Threads is an exhibition of quilts exploring themes of spirituality, joy, inspiration, peace/brotherhood, grief and healing. This biennial exhibition was established to provide a safe venue for quilters who see their work as a connection to the sacred and/or as an expression of their spiritual journey.
The objective is to create a dignified exhibition of artwork that touches on both spiritual and personal levels all those who view it. We want to share with others the experiences of quilters whose stories may be a source of healing and strength.
Entries to Sacred Thread Exhibitions are juried in by images for purposes of space and suitability of theme only. Works are not judged.
Sacred Threads is a 501(c)3 and appreciates the support of our donors. To make a tax deductible donation online, use your credit card or PayPal account.
Thank you to our sponsors: