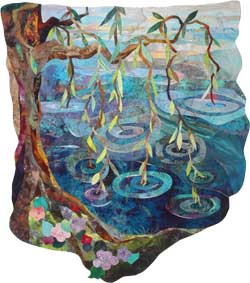 Exciting News for 2015
We have a second call for entries for a special exhibit of liturigcal pieces to be hung in the sanctuary at Floris United Methodist Church. FUMC is interested in purchasing artwork for permanent installation in the sanctuary. Please click here to read all about it.
Sacred Threads is traveling in 2014
Denver National Quilt Festival
May 1 - 4, 2014
Denver, Colorado
Art of the Sacred
June 21 - 28, 2014
Epiphany Parish
1805 38th Avenue, Seattle, WA 98122

First Presbyterian Church of Flint
September 7-28
746 S. Saginaw St.
Flint, Michigan 48502-1508
---
Mark your calendars for 2015!
Call for Entries: January 9 - March 9, 2015
Call for Entries (Special Liturgical) - January 9 - April 9, 2015
Exhibit dates are July 10-July 26, 2015
Floris United Methodist Church, Herndon, VA
Opening reception, July 11th, 2:00-4:00 pm, 2015
Not Fade Away Conference with the Quilt Alliance, July 17-18, 2015
If you would like to be added to our distribution list to be notified of the next call for entries or events,please signup here:
---
Experience the 2013 exhibit with these Treasures

Computer CD which includes photos of the artwork, artist statements and audio recordings from the artist. Compatible with Mac and PC.

$10.00 (plus $2.95 S&H)

---

Sacred Threads Enamel Pin

$5.00 (plus $1.00 S&H)

The Sacred Threads 2013 Exhibition Book (Softcover - 252 pages)

$29.99 (plus $5.00 S&H, $2.00/ea. for additional books)

NOTE: This is the Sacred Threads special price available while supplies last. Retail on Amazon.com is currently $41.61.